Work At Home
How I Built My Website Using Site Build It!

Hi, I'm Tony and this is my website story - how I managed to build a work at home internet business around my hobby and yet I am a father of two with a part time job PLUS I had no web design or internet experience (only e-mailing and surfing the web - mainly spending hours on Ebay!!).

My internet business is a hobby about my other hobby - caravanning - which I enjoy most of the year round. My other hobby - my work at home internet business - fits around this extremely well. Who better to write about their hobby and to impart all their knowledge while enjoying every minute of building their very own website ?? !! And yes, you could do this too!!

I used an easy-follow program called Site Build It! (SBI for short) to build my website. Have a look at some other SBI websites where ordinary people have written about their passion or hobby!

This is my mobile "office" !! :
I can work on my internet business from home putting in as much time as I have available. I am hoping to build up the business - our (my husband and I's!) future dream is to retire from "normal" work and be able to run our SBI internet business from our "mobile office" (yes, the caravan!) while travelling around the UK visiting all the places we never quite had time to see before!

SBI was introduced to me by a friend (who had already built himself two successful websites) as a way to build your own website step by step without having to have any technical knowledge. It was also about creating a website about something you love. It is an easy way to start a small business.

I read all about SBI and then re-read it, and read it all again!! Finally, one day I said this is ridiculous. Just make the decision and buy it. And I did. I haven't regretted it for one second.

You may be thinking "But I can't build a website." Well, if I can build a website then anyone can!!

Yes, YOU can build your own website and start generating some additional income.
Want to work at home or interested in setting up your own internet business? CLICK HERE to contact me with ANY questions you may have. I have always happy to answer them.
Here are some of the most popular questions about Site Build It! :
Can you explain simply how Site Build It works?
In a nutshell, Site Build It is an online/download program which guides you step by step how to turn a hobby/passion/interest into an online business through building a website.


This is not just some software which you are left to follow on your own - it is a program where you are supported all the time by real people either in the forum or in the SBI headquarters. You are guided every single step of the way. SBI! makes online business success do-able.


How much does it cost?
It costs $299 USD per year - that works out at just under $1 USD per day. Paying $299 yearly may seem expensive but remember you will be supported every step of the way and if you follow the Action Plan your business cannot fail! Remember, Site Build It also has a 30 day 100% money back guarantee plus there are no extras to pay and no hidden costs.

Can anyone use Site Build It and do I need to already know how to build a website?
YES, anyone can use Site Build It and NO you don't need to know anything at all about building a website.

Site Build It has an incredibly simple block by block website building system. They have stacks of templates which you can customize and they guide you the whole way. Of course, if you want to make a more complicated website or use your own templates, they allow you to do that too!

The whole website building process is simplified to such a degree that success (i.e. profits, not just the making of a website) is achievable even for a beginner. SBI really does change lives - whether you are a stay at home mum , a retired person with time on your hands or already have a job but wish to achieve the challenge of building your own online business from scratch.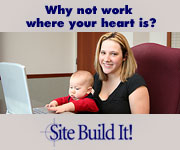 SBI is the only product that takes the time to prepare you to build a profitable business, before you jump into building your site. For the beginner, your learning curve will be shorter and you'll bypass any show-stopping errors. For those experienced in site-building, SBI! deepens your level of understanding. No matter who you are, you are guided all the way until you succeed.

SBI comes with unlimited Customer Support. SBI owners often call it the best they've ever experienced. And the SBI Forums complete the picture. They are the most friendly, help-and-be-helped set of e-business forums in the world.


How do you actually make money?
I wondered that too! There are 2 main ways:

Firstly you might sell a product (or service) that you own or make e.g. homemade jewellery, eBooks, graphic design, language translation. You will physically ship or provide a service.

Secondly, you might sell a product/service that you don't own - this is what I do. In this case you join forces with a supplier (I joined forces with various caravan accessory suppliers) and then if I refer people to them who go on to buy their products, I get a small percentage of the sale. This is called "Affiliate Marketing". This isn't as hard as it sounds - Solo Build It will explain it all in a very simple way and walk you through the whole process.

There are other ways to earn as well such as by putting Google ads on your web pages (every time a visitor clicks on one of those ads, I earn some income) or writing articles for other sites, plus many more. This is all explained in detail by SBI.
I have no idea what to build a website about. Can you suggest anything?
This is a question that I get asked all the time. Don't worry though as Solo Build It walk you through the whole process of how to choose something interesting and profitable to you.

For example, here are some websites that other SBI'ers have built.

There really is no limit on what you can build a website about. My only advice is to choose a topic you love and/or are passionate about otherwise the work you put into the site will feel like another job.

SBI has a brainstorming tool which generates ideas and analyses them. After using the tool, you'll have all the information you need to make a decision if your site concept is a good one - how much demand there is for your idea, how much competition is out there and whether it is a profitable topic or not.

How long did it take you to build your website?
I won't pretend that you can build it in a day or even a month. It takes time. Remember though, you are not just building a website you are aiming to build a business, a business that earns you money.

Solo Build It have what they call a "10 day" course to enable you to get your website up and running. Although they use the word 'day', a day sometimes took me several days or a week. It all depends how much time you can devote to it.

I started www.caravan-advice.co.uk in June 2007 (after a year of reading about it and putting it off) and it took me about one month to put my up my first few pages but another 6 months before I felt I had a decent looking website.

I never stop building my website as there is always something new to write about.

Page creation is as simple as riding a bike with it's training wheels still attached. No need to know HTML. The block-by-block builder trains you how to write a page that is both "Search Engine and human effective." It's simple, do-able and most importantly, effective site-building. The block-by-block builder is perfect for beginners, but even many "advanced" users should start with this tool.

How many hours do you work a day?
I go out to work every day but as soon as I come home I will probably spend about 2 hours a day at the computer but a lot of that time is spent gleaning information and tips off the Solo Build It forum. Some days I don't work at all and other days I just answer emails - it fits around my work and home life perfectly. Obviously the more you put in the more you will get out of it.

What if I get stuck or I want my money back?
When I started in mid 2007, I relied on the Site Build support center and they have a fantastic forum which is alive with people like you and me all trying to set up a work at home web business. There are beginners and experts alike all asking every manner of questions. It really is the best forum I have come across. The forums are a business-building support community ready to help you succeed.

Solo Build It also have a 30 day 100% money back guarantee and after that you are refunded on a pro-rata basis, for whatever part of the year remains. Not bad at all compared to other programs. It's a risk-free decision that you can make with confidence and peace of mind.

I am not sure if I am ready. Can I get some FREE stuff first?
There are lots of FREE Solo Build It products. I love a freebie so definitely took advantage of them!

Think you can't write? Have a look at this book - you can download your free copy here. Actually, there are two free books about writing for the web. This second book was formerly sold for $29.95 and is now free. You can get your copy here.
I read lots and lots before I made the decision to go ahead - as I said above, it took me a year to decide to go for it! It's a bit scary at first so I really wanted to check I was doing the right thing.

If you are still not convinced, have a look at these I Love SBI! videos.


Have you still got some questions? I am more than happy for you to contact me. You can also contact SBI directly - they have way more experience than me!

Good Luck and Happy SBI'ing !!
Tony